THE JEFFERSON MUSEUM OF SCIENCE AND NATURE
MICROSCOPES - TELESCOPES - FOSSILS - PRAIRIE
---
I need to sell this AMRAY 1610T electron microscope.
I acquired it from a source who had simply stored it after they acquired it from a well-known Chicago-area manufacturer, where it was used for several years to examine metal samples from the electronics industry.
Here's how it looked when I picked it up in 2001: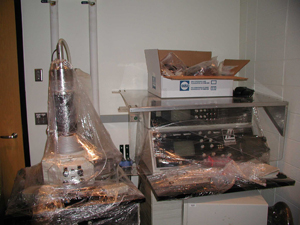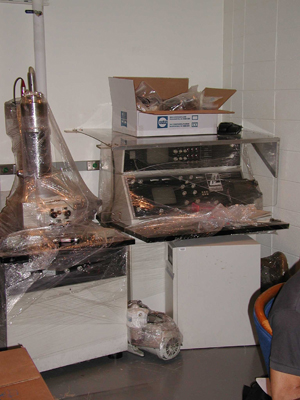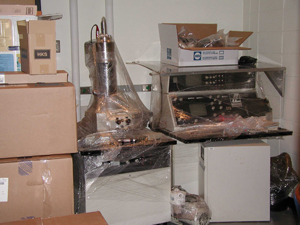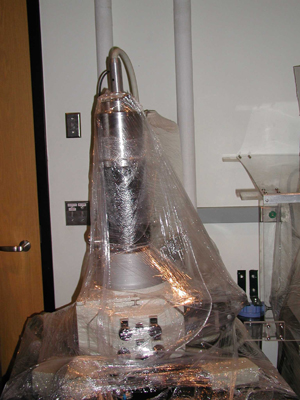 Click images for larger versions.
And in May 2013:
This unit was made in about 1983.
It's always been stored indoors in heated spaces.
It includes a PGT System 4 / IMAGIST 4000 x-ray spectrometer system.
Best of all, it's untouched. I haven't powered it on. I haven't tried to repair it.
It includes the PGT and its PDP-11/23-based computer. I did try to power it on; it didn't boot.
I have the Leybold D8A vacuum pump designed for it and you can see the vibration isolation cement bucket in one of the pictures.
I have a half-dozen spare tungsten filaments, the Polaroid camera for it, xeroxed paper manuals for the SEM, vacuum logic board, and the PGT EDS. Only the vacuum manual included the circuit schematics.
I have the disks for the PGT System 4 EDS system.
I haven't been able to find the metal panels. I had them once, but I think they were lost in the storage space.
Moving it is an adventure. The official spec says the column weighs 1,200 pounds but I think that's a bit high. It's about a yard square and six feet tall. The console is about 41" x 33" x five feet tall and weighs about 300 pounds. It is stored in a warehouse that has a loading dock. It is located in Jefferson, WI.
The price? The best offer I receive ASAP. I'd love to find someone who will at least use it for parts. If I don't, I'll examine the price of stainless steel scrap.
Email jfoust at threedee.com, phone (920) 674-5200.
---
Return to the Jefferson Museum Of Science And Nature or the Jefferson Computer Museum.
Copyright 2013 , All Rights Reserved. THIS PAGE MAY NOT BE USED OR PUBLISHED IN ANY FORM (WRITTEN, CD-ROM, ETC.) WITHOUT EXPRESS WRITTEN (HARDCOPY) PERMISSION FROM JOHN FOUST.