REVIVING CASSETTE DATA
IN THE WEST WING OF THE JEFFERSON COMPUTER MUSEUM
TERAK MUSEUM - UCSD PASCAL MUSEUM - USUS LIBRARY
ANCIENT ALPHABETIC ART - LIBRARY - ALTAIR AND IMSAI EMULATORS
REVIVING CASSETTE DATA - DISK UTILITIES - COMPUTER RESCUE
WHAT'S WRONG WITH THIS PICTURE
---
Reading old data tapes
I've been thinking about reviving old audio cassette tape storage of computer data. With today's PC audio digitizers and a little software, it should be possible to decode and synthesize tapes in formats such as Tarbell tapes for S-100 systems, 88-ACR, Commodore PET, VIC and C-64, Bell 103 recordings, etc. A software approach would have several advantages: you don't need the original hardware, and it has a better chance of restoring out-of-spec data.
A little digging revealed the "soundmodem", a driver for Linux and DOS that is a software-based FSK modem that can handle 300 to 9600 baud in real-time using a SoundBlaster as the digitizer / DSP. It is used by ham radio operators. Several Sinclair emulators are able to read digitized tapes in a similar way.
To experiment, I digitized an old wobbly CBM PET tape and did a bit of post-processing in contemporary sound software and it normalized the volume quite well. I suspect with commercial audio software, one could even invoke filters to remove print-through.
At 22 or 44 kHz mono 8-bit samples, there's certainly enough headroom to distinguish these relatively slow-speed signals. With some formats, just watching the zero-crossing timing would work. I have found that several emulators use this approach, such as the Sharp MZ-700 emulator at ftp://ftp.cdrom.com/.22/linux/sunsite/system/emulators/.
I wonder if this technique could be used to rescue old N-track reel tapes that have become unreadable over the years, by intercepting, digitizing, and post-processing the tape-head signal.
What would help the most is to get specifications for the old standards. I don't have any documentation, although I'm digging through the basement to find my old Kilobauds.
Don Tarbell
In late 1997, I sent an e-mail to Don Tarbell, who was apparently still on the Internet, but I received no response until May 1998, from a former employee of Tarbell and friend of the family who found this page while web-searching the net to find references to Tarbell. Unfortunately, Tarbell had just passed away.
More samples
It would also help to see more samples! If you have any old cassettes, please consider digitizing them and sending them to me.
Here's a sample from a Commodore PET "Hurkle" tape, at the transition from the header sine wave to the start of the data: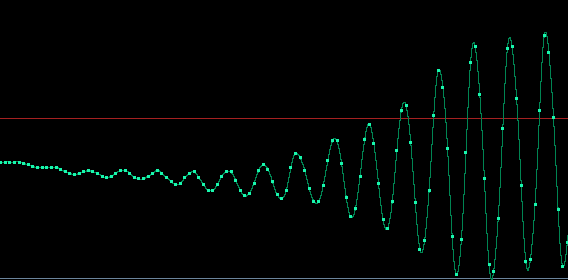 ---
Return to the main page of the Jefferson Computer Museum.
Copyright 2003 , All Rights Reserved. THIS PAGE MAY NOT BE USED OR PUBLISHED IN ANY FORM (WRITTEN, CD-ROM, ETC.) WITHOUT EXPRESS WRITTEN (HARDCOPY) PERMISSION FROM JOHN FOUST.
www.threedee.com - www.goJefferson.com - www.foust.org - www.saltglaze.com